15 Top Tutorials on How to Make Easy but Effective Wedding Backdrops
So I've spend hours, scouring the web for what are, in my personal opinion the best wedding backdrop tutorials out there. If you know of some others I should take a look at, link them below!
Wedding backdrops have been around for a while now but seem to be continuing to grow in popularity and whilst there are plenty of companies out there that can provide you with backdrops already decorated...
*Would be rude at this point not to plug my best friend Bethan from Enchanted Wedding Hire, if you're in West Wales, she's your girl!
...But if you're the crafty kind or your trying to save a few pennies take a look through these tutorials.
1. This DIY Floral Pergola Project is from the lovely people over at Green Wedding Shoes, and whilst it's aimed at a decorating Pergola, I'm sure the same rules apply to any structure you may want to decorate.
Perfect for ethereal wedding photos and with an approximate set up time of only 30 mins, it's definitely one of the simplest but also one of the most effective backdrops on this list.
To add an personal touch to this backdrop you could add a personalised wedding name sign or a romantic quote suspended from fishing wire.
2. Okaaaay tutorial number two, DIY Wax Paper Backdrop comes from a collaboration between Style Me Pretty and Katie M Kulpar.
This one is a bit more time consuming than the last but easy enough to do whilst watching TV. I'll  should add that I have checked Amazon and we can get the Deli Wax Paper here in the UK.
This backdrop is definitely one of the cheapest wedding backdrops to make on this list, I reckon all in it'll come to less than £25... bargain. 
3. This second wax related tutorial is again from the busy bunch over at Green Wedding Shoes.
This Waxed Dot Garland Tutorial is a slight step up from the previous one in terms of time (there's a few more steps to the process) and cost, (unless you happen to already own crafty bits like a glue gun or have an old iron). That said, it's still pretty straightforward and fairly cost effective and for the final outcome, I would say it's worth the extra effort. 
Extra Tip: When I used to have to melt wax, I would put it in a glass bowl which I then placed in water in a slow cooker - that way I could still use my slow cooker and only had to sacrifice a glass bowl. Just make sure the glass bowl you use can withstand a fair amount of heat. 
 4.This next tutorial, DIY Dip-Dyed Wedding Photo Backdrop is another from Style Me Pretty and again is another super easy and inexpensive project.
Much like the second tutorial its one you can sit in front of the TV and do... once you've dyed them of course.
I've also taken the time to have a quick look on Amazon... again.. and I've found 500 Coffee Filters for £10.95  inc. P&P - not bad seeing as that will probably be your biggest expense when creating this backdrop. 
5. Tutorial five, DIY Coffee Filter Garland is essentially the same as above just with a different outcome.
Again this would look perfect in so many different scenarios at a wedding - it could be used to decorate the top table, as part of a backdrop design or a number of other things. 
You could even incorporate the garland with some Wedding Signs. For example, you could suspend a Cake or Cards signs from them - provided you used fishing wire rather than thread. Interesting alternative to bunting perhaps. 
6. This Crepe Paper Flower Tutorial comes from Lia Griffith and is the first of three paper flower related tutorials, my thinking was it would be possible to mix and match to create a truly unique backdrop.
It's easy for fake flowers to end up looking... well a bit naff so I've chosen these three as the final outcomes almost look as good as the real deal without the cost or worry of them wilting.
Also, not only can these be used for backdrops, they'd also look great within a centrepiece design. 
7. I am absolutely in love with this tutorial and can't wait to give this one (and the next one) a go. This Giant Paper Flower Tutorial 
comes from Smile Mercantile.
For how impressive the final outcome is, I'm surprised by how easy they are to make. 
Even those with no creative bones in their body could manage this one!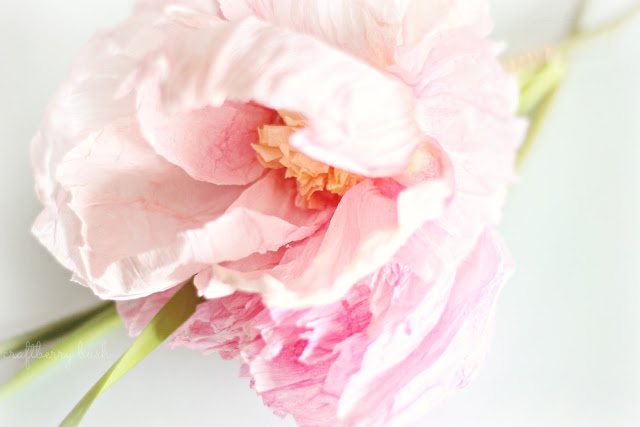 8. Again, another absolutely beautiful flower tutorial, that I cannot wait to try.
This Crepe and Watercolour Flower Tutorial comes from the super talented Lucy over at Creativity in Bloom.
This one is slightly more advanced but still more than achievable. 
9. This Paper Fan Wedding Backdrop Tutorial  is one of two on this list. This one comes from You Are My Fav and I'm calling this the easy one.
The reason I'm calling this the easy one is because essentially all you need is some pre-made paper fans and a bit of time. Super easy, super effective.
I've had a quick scout about on the internet for UK suppliers of paper fans and whilst there are some out there, whether you can get them in the wedding colours you're after is another thing.
10. Ok, so now for the super DIY version.
This version of a Paper Fan Backdrop Tutorial  is by A Pretty Cool Life and is the version that if you will probably need to follow if you have specific colours in mind - at least if you're here in the UK.
Even though I've called the other tutorial the 'easy' tutorial, this on is by no means hard, so don't let that put you off!
11. This DIY Balloon Backdrop Tutorial from Lovely Indeed is so easy to replicate literally anyone could do it.
I think using the right balloons... I'm thinking confetti or glitter filled it could look really effective. It's also got to be one the easiest and quickest backdrop to do.
12. Again, like the tutorial above, this is one more for inspiration than a tutorial as it's all pretty self explanatory, nevertheless if you would to view the tutorial it's from BLTG25 and can be found here.
Although this is quite a minimalist design, it still looks super cute. You could choose to amp this design up by by adding a personal touch such as a Mr & Mrs Sign or a Special Quote Sign.
13. This Star Garland Backdrop Tutorial is the first of 3 more unusual ideas. Not necessarily ideas you would always associate with a wedding but done right will work fantastically well nonetheless. 
I particularity like this outcome as it almost has a Bokeh style to it. You could also  replace the stars with hearts or different sized circles if you really want to mimic Bokeh trend.
14. This DIY Yarn Banner Tutorial would give any wedding real boho chic.
This idea is the brainchild of Creative Bug and is another straightforward tutorial with stunning results.
I think if it was me I would recreate this idea usings pastel shades to create and ombre look. 
15. So number 15, the FINAL tutorial.
Believe it or not this tutorial is all about marshmallows, yep those little white lumps of goodness. This Snowed In Tutorial is again from the people behind Green Wedding Shoes. 
Using food dye in differing strengths, the mallows could be dyed to create an ombre effect (I'm obsessed, I know) and really take this idea our of the Winter and into all seasons.
 LAST WORD
Whether any of you will read this far down I don't know - but if you have got this far THANK YOU, I hope we've inspired you!
If you don't mind I'd love to spend 30 seconds telling you about us and what we do.
Signs & Props is run by my partner Tom and I (Sarah) we create both generic and personalised wedding signs here in the UK. 
As we design and make everything ourselves, if you can think it - chances are we can make it.
We are currently looking to collaborate with wedding planners, brides/grooms, venues and bloggers - so if you think you would be interested, drop us a message, we'd love to hear from you.
So finally, please feel free to have a mooch around our site and if there's anything we can help with - get in touch!